October's meeting is a little late. Two of the moderators have either given birth or is about to give birth.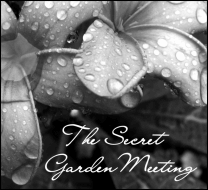 Welcome to the garden. A place that is only open for bereaved parents. It is our garden, our secret place to come to. A place to remember our children with those who understand us. It is a place to just be, without worry or fear of not being accepted. May you feel safe to share your hearts here in the garden.
So this meeting we would like to talk about where you are. Where are you at in your grief. Has it been years or just weeks since you lost your baby. How are you feeling. How do you hope you will feel in the future. Have you found any peace at all?

Well, it has been 11 months, 1 week and 1 day since we lost Alyssa-Joy, and 3 months, 1 week and 5 days since we lost Evan. Some days I am ok, and other days the grief hits me like a Semi lowing into a tree. When I think I am almost over it, a new wave of grief hits me. I thought it would have gotten easier after the second loss, but in fact t has gotten worse.
Experts outline the stages of grief, but we all know grief does not follow a pattern. I never experienced denial, but go from accepting it to back to feeling guilty.
I do not know what the future holds, but I do hope the pain becomes bearable. In fact, I know I know it will be. When that will be, I don't know, but it will happen.
I have found some peace. I know who my redeemer is, and I know he desires good for me. I also know where my babies are. They are in a place where they will never feel pain, or experience hurt and disappointment. They are resting in the arms of our Savior, and being spoiled by their grandmother. I look forward to seeing them again.
I don't think I will ever have total peace until I meet my babies again, but I have the peace he gives me.
Where is my expected end?